By: Stephanie Haines
MILWAUKEE (WTMJ) — The FBI announced it has added Octaviano Juarez-Corro to its Ten Most Wanted Fugitives list.
Investigators say Juarez-Corro shot five people, killing two, over Memorial Day weekend in South Shore Park back on May 29, 2006.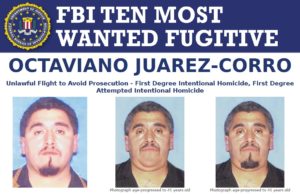 He has been on the run ever since. Now the FBI is hoping a $100,000 reward might convince someone to come forward with information.
According to the FBI, Juarez-Corro confronted his estranged wife at a picnic with friends and family, demanding he see his 3-year-old daughter.
"The place where it took place was in a park, public park, on Memorial day, hundreds of people, celebrating, picnicking, there was a playground right across the street from it where this was located and where there were anywhere from 75 to 100 kids were playing," said Milwaukee FBI Special Agent in Charge Robert Hughes.
Hughes says that's when Juarez-Corro pulled out his handgun.
"According to an eye witness account, Juarez-Corro brandished the firearm and demanded four of the five the victims get to their knees," Hughes said. "But before they got to their knees, he systematically shot each of them in an execution-style manner."
Hughes said five were shot, and of those, two young men were killed. He says his wife survived.
Upon arrival, a Milwaukee Police officer started CPR on one of the victims.
"Had it not been for the heroic efforts of that MPD officer, there may have been three fatally wounded people that day," Hughes said.
Milwaukee Police Acting Chief Jeffrey Norman remembers this day. He said he was working in the homicide unit at the time.
"And see that there has not been a giving up of hope of having the resolution of bringing this fugitive to custody," Norman said.
The FBI say a spot opened up on the Ten Most Wanted list, and Juarez-Corro made the cut.
"There's only been 20 people been added to the list in the last five years, and three of them have come from Milwaukee," said Milwaukee FBI Assistant Special Agent in Charge Robert Botsch.
The FBI says the last two fugitives from Milwaukee to make the list were caught in a matter of days.
Now authorities believe Juarez-Corro is in Mexico.
"We've brought back numerous fugitives from Mexico," Hughes said.
"We will not stop looking for these people for as long as it takes, wherever they're hiding, whether that's in Milwaukee or whether that's in Mexico," Botsch said. "We will continue to look until we find them."
If you have any information, call 1-800-CALL-FBI.
MOST WANTED::

The FBI is adding a Milwaukee fugitive to its Ten Most Wanted list.

Investigators believe Octaviano Juarez-Corro shot five people, killing 2, at a Memorial Day picnic in 2006 at South Shore Park.

There's $100k reward for info that leads directly to his capture. pic.twitter.com/ZVtOihEZCw

— Stephanie Haines (@TMJ4Stephanie) September 8, 2021
This story was originally published September 8, 2021, by WTMJ in Milaukee, an E.W. Scripps Company.