A Tenn. man facing life in prison has been found guilty of 36 charges in connection to a horrific 2007 double-homicide that shocked the nation.
Eric Boyd, 47, is already serving an 18-year prison sentence for harboring one of Channon Christian and Hugh Christopher Newsom's killers. For nearly a decade, the victims' families have pushed for Boyd to face murder charges.
On January 6, 2007, 23-year-old Newsom and 21-year-old Christian were reportedly kidnapped at gunpoint in a Knox County apartment complex parking lot. The events that occurred in the hours before their deaths gripped the county with fear.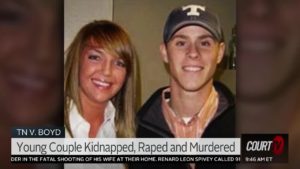 Prosecutors say Christian was tortured and forcibly raped vaginally, anally and orally before her assailants poured bleach down her throat to destroy DNA evidence. Her body was found in a trash can three days later, wrapped in five plastic bags in a forced fetal position. Authorities said Christian, who was alive when she was dumped, died from "asphyxia due to a combination of mechanical asphyxia and positional asphyxia."
Newsom suffered a similar fate. Prosecutors say his hands and feet were bound when he was anally raped. He suffered three gunshot wounds before he was doused in gasoline and set on fire at a nearby railroad track. His body was found January 7.
Five defendants were put on trial after the atrocious slayings of the couple. Lemaricus "Slim" Davidson, identified as the ring leader, was convicted of murder and sentenced to death in 2009.
Letalvis "Rome" Cobbins, Davidson's brother, was also convicted of murder, but a jury chose life without parole as his punishment.  George Thomas, Davidson's friend, also avoided death after being convicted of murder. Vanessa Coleman, Cobbins' girlfriend who was in the house where the victims were held captive, was acquitted of murder, but ultimately convicted of lesser charges including facilitation.
Davidson and Cobbins' DNA was found on Christian and her clothes. DNA evidence did not link Thomas and Boyd to the crimes, but Thomas admitted to being present and Boyd admitted to helping Davidson before he was arrested.
In 2011, the judge who presided over four of the defendants' trials pleaded guilty to official misconduct relating to a drug addiction. Coleman, Cobbins, Davidson and Thomas were granted new trials. Boyd's conviction, which took place in a federal court, was not affected.
The Latest
Now, a group of witnesses allegedly placed Boyd at the house where the couple was tortured and raped. The new information has resulted in a 36-count indictment against Boyd. The trial of TN v. Boyd began August 6.
Timeline of Events
The following is a timeline of the most important events in this case.  The dates noted with an asterisk are approximate.
2007
January 1-5:  Lemaricus "Slim" Davidson's girlfriend walks out on him. His brother Letalvis Cobbins comes into town from Kentucky, bringing girlfriend Vanessa Coleman and friend George Thomas. The four are staying in Davidson's rental home (leased to his aloof girlfriend) on Chipman Street.
January 5 or 6*: Boyd borrows his cousin's white Pontiac Sunbird vehicle.
January 6: Davidson, Thomas, Cobbins and allegedly Eric Boyd carjack Hugh Christopher Newsome and his girlfriend Channon Christian from an apartment parking lot. The victims are abducted and taken to the home on Chipman Street.
January 7: Christian does not appear for work and her mother files a missing person report.
Davidson's girlfriend, Daphne Sutton, returns to the Chipman Street home. She claims Davidson blocked her from going into the bathroom where she heard commotion and running water inside. Sutton testified Davidson gave her clothes and a ring as a gift, items later identified as belonging to Channon Christian.
Around noon, Newsom's body found near railroad tracks outside of the 2316 Chipman Street house.
Davidson visits Sutton at a friend's house.
Sutton learns about the body found at her rental home and convinces Davidson to leave the friend's place. She drops him off at Boyd's residence in the Ridgebrook Apartments.
January 8: Christian's silver Toyota 4-Runner found near Chipman Street shortly after midnight. A fingerprint lifted and identified from an envelope in the vehicle matched Davidson. Police get a search warrant for his home.
Boyd's cousin, Nicole Mathis, arrives home to find her car has been returned. She discards a plastic bag with silver bullets found inside that were not in the car previously.
January 9: Davidson and Boyd go to Danielle Lightfoot's home to stay with her. When she sees an image of Davidson on the news, she also asks the two to leave.
Christian's body is discovered in a trash bin inside the Chipman Street house
Boyd breaks into a vacant home on Reynolds Street to provide Davidson a place to hide.
January 11: Police arrest Boyd who takes them to Davidson.
January*: Boyd charged with accessory and misprison.
2008                           
April 16: Eric Boyd convicted in federal court as an accessory to the fatal carjacking and concealing a carjacking. He is the first of the co-defendants to be convicted. He is sentenced to 18 years in prison.
October 22: Chipman Street House torn down.
2009
August 25: Murder trial is held for Letalvis Cobbins. An outside jury is brought in due to the pre-trial publicity. He is convicted, and jury chooses life without parole as his punishment over the death penalty.
October 28: Knox County jury convicts Davidson of murder and other crimes and recommends death as penalty.
December 8:  Outside jury convicts George Thomas of murder but does not choose the death penalty for his crimes.
2010
May 13: Cobbins' girlfriend, Vanessa Coleman, acquitted of murder by an outside jury but convicted of lesser charges including facilitation.
2011                           
March 10: The judge who presided over Coleman, Cobbins, Davidson and Thomas' trials, Hon. Richard Baumgartner, pleads guilty to official misconduct.
December 1:  A Special Judge takes over Baumgartner's docket and grants new trials to the four defendants.  Boyd's federal case was held in front of a different judge and is not affected.
2018
March 20: Boyd indicted on 36 counts of murder, rape, theft and kidnapping.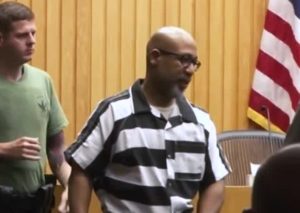 2019
June 27: Hearing on motion for change of venue, defense's request for appointment of defense co-counsel, and motion to dismiss on due process and speedy trial grounds. All defense motions denied.
August 5: Jury selection begins.
August 6: Jury hears Opening Statements.
August 7: Co-defendant George Thomas takes the stand.
August 8: Ring leader Lemaricus "Slim" Davidson's ex-girlfriend Daphne Sutton takes the stand.
August 12: Closing statements. Jury deliberation begins.
August 13: Jury finds Eric Boyd guilty of all charges.