By LAUREN SILVER
CHEATHAM COUNTY, Tenn. (Court TV) – A woman initially reported missing and believed to be in danger was reported to be safe in California on Tuesday night.
The Redding Police Department announced on its Facebook page that it had been contacted by the Eureka Police Department after Nikki Alcaraz was found to be safe. Officers offered no further details on her condition or how she was found.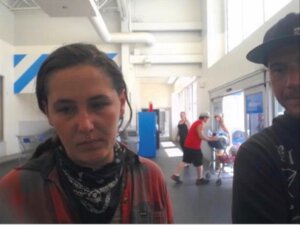 The National Center for Missing and Endangered first called attention to Nikki Michelle Alcaraz's disappearance on May 14. In a post on its Facebook page, NCME said Alcaraz, 33, was last seen on May 6 in Moriarity, New Mexico, and had been traveling across the country from her home in Tennessee to Southern California with Steven Tyler Stratton. The pair were driving a black 2013 Jeep Wrangler with TN license plate U7272G. The car has a "Mama Tried" bumper sticker and camo seat covers, and a dog is traveling with them.
In its post on social media, NCME said "Due to a history of domestic assault, we believe she is in danger."
A surveillance photo taken Saturday at a Walmart in Redding, California, appears to show Alcaraz. The photo was taken while Alcaraz was reportedly selling her phone at an EcoATM, KABC reported. Alcaraz's brother spoke to the station, who said he believes his sister is in danger.
"It's not like her to not reach out to anybody, especially her kids."
Cheatham County, Tennessee, District Attorney Ray Crouch told Court TV that the man seen in the surveillance photo with Alcaraz is not Stratton. Crouch said the photo was taken on May 27.
A police report from May 4 indicates the couple had some trouble while driving through New Mexico. In an incident report from the Torrance County Sheriff's Office obtained by Court TV, deputies said they were called by a man who had been driving by a woman on the ground being punched by a man standing over her.
The woman, identified as Alcaraz, told police that she and Stratton had dropped off a friend in Amarillo, Texas, before picking up a bottle of Fireball and beginning to drink. Alcaraz said she was in the passenger seat when Stratton began to hit her for no reason. She said she was able to jump out of the vehicle at a rest area. In the report, deputies noted "red marks on her face and fingerprint marks on both arms. Ms. Alcaraz also stated that she had a bruise on her chest and her back."
Stratton told deputies that they had both been drinking, but that Alcaraz had been the person driving. Stratton claimed that Alcaraz hit him in the mouth for no reason, and also said she has "blackouts after drinking liquor."
Deputies spoke with both subjects again, and neither one would admit to driving the vehicle, and they were both intoxicated. Mr. Stratton and Ms. Alcaraz stated that they did not want to assist with any charges being filed. Both subjects were given a ride from the scene. Ms. Alcaraz was transported to Moriarty, NM. Mr. Stratton will be dropped off in Edgewood, NM.
Deputies noted that Stratton was bleeding from his mouth and nose when he was taken into custody. When officers searched the vehicle, they noted blood spatter on the passenger side of the door, "which would have come from Mr. Stratton, since he was the only one with visible blood on his face. I also noticed blood on the running board. It was determined that both parties were mutual combatants while traveling down the interstate."
Alcaraz's vehicle was towed from the scene.
An addendum to the report notes that a detective spoke to an employee of the towing company in reference to the Jeep on May 29. The employee told the detective that the Jeep was picked up by Alcaraz in a vehicle from California, but that she was with a man "who was not the same person from the day before."
"There's a lot of possibilities that I'm scared of after not hearing from her for three weeks now," Toni Alcaraz, Nikki's sister, told KABC.
Toni told the station that she last received a text from her sister on May 8, saying that she was in Arizona and planned to continue driving in California.
Stratton is wanted on an unrelated warrant for failure to appear on a probation violation relating to a theft charge, WKRN reported.
Nikki's family has asked that if anybody sees her, they contact the police immediately.