By: Ryan Dickstein
BALTIMORE (WMAR) — Police have identified a woman whose remains were found inside an abandoned container in Baltimore earlier this month.
Versey Spell, 75, had been missing since October 2022.
Last November WMAR spoke with Spell's sister, Bettea Brown-Wilson, who was one of the last to hear from her.
"We had went out for her doctor's appointment and came back, had dinner. My husband took her home and that's the last anybody had seen her," Brown-Wilson said.
Brown-Wilson grew more suspicious of her sister's disappearance when she received a startling call five days later.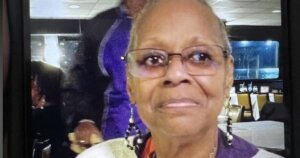 "[Versey's] landlord sent her brother to the house to check on my sister and the house, and the house had been broken into upstairs and downstairs and my sister was missing from the house," said Brown-Wilson. "They just destroyed her apartment completely, everything was all over the place."
But, that's not all of what was discovered at Spell's house. Someone was actually still inside, sleeping in her bed.
"He asked who are you, and she said who are you, and he said you don't live here and she said my friend brought me here, and he said your friend, this is my sister's house, get out of her bed," said Brown-Wilson. And she just jumped up, pushed him and ran out the front door."
There were however some signs left of Spell.
According to Brown-Wilson, Spell was disabled and required a cain or walker to get around. Those items were left behind in her house.
"It's not like she's going to walk anywhere or go with anybody because we are close knit family, and if she need a ride I will take her, my daughter will take her, somebody would take her and she wouldn't go off with nobody," Brown-Wilson said.
Despite her disability, we're told Spell still worked as a greeter at Camden Yards following a career with the VA.
After she was reported missing, police issued a sliver alert for Spell while her family distributed flyers seeking tips from the community.
Brown-Wilson even held a vigil for Spell last November, months before her body was discovered.
Police have not revealed any potential motive or suspects in the case as of this writing.
The Orioles have reacted to Spell's death by issuing this statement.
"We are saddened to hear of the passing of long-time Orioles usher, Versey Spell. Our Orioles family sends heartfelt condolences to her family and friends. We will miss her warm welcomes at the ballpark."
Anyone with information is asked to call homicide detectives at 410-396-2100.
This story was originally published March 21 by WMAR in Baltimore, an E.W. Scripps Company.