BY SEEMA IYER | COURT TV
Harvey Weinstein, a Hollywood tycoon whose alleged sexual behavior has sparked a powerful conversation world-wide began his plummet from power in early 2015.
And it's all thanks to a few strong women who had the courage to speak out.
Here's a timeline of how the scandal unfolded:
March 31, 2015 – First public accusation of public assault
A 22-year-old Italian/Filipina model, whose name was later revealed to be Ambra Battilana Gutierrez, filed a sexual assault compliant with the NYPD. Gutierrez alleges that Weinstein groped her at the Tribeca Film Center after a meeting.
Oct. 6, 2015 – Ashley Judd makes accusation of sexual harassment
Ashley Judd claims she was sexually harassed by a boss when making the 1997 film "Kiss the Girls." Although Judd does not name Weinstein at the time, she says this person requested she join him in his hotel room and watch him shower.
Oct. 13, 2016 – Rose McGowan makes accusation of rape
Rose McGowan calls an unnamed film distributor a 'rapist' while responding to a trending hashtag #WhyWomenDontReport. McGowan has appeared in Weinstein movies such as, "Scream" and "Grindhouse."
Oct. 4, 2017 – Weinstein employs legal team
Weinstein hires a team of lawyers and crisis managers in anticipation of impending exposes by The New York Times and The New Yorker. The team includes attorneys David Boies, Lisa Bloom (daughter of Attorney Gloria Allred), and Charles Harder. Weinstein denies any wrongdoing.
Oct. 5, 2017 – The New York Times report is published
The New York Times reveals Weinstein's 20 year history of sexual misconduct and settlements involving eight separate alleged sexual harassment cases. Incidents include employees and notable actresses of mention are Ashley Judd and Rose McGowan.
After issuing a statement reading, in part, "I so respect all women and regret what happened," Weinstein announced he'd be taking a leave of absence from Weinstein Co. effective immediately.
Oct. 6, 2017 – Weinstein Co. investigates
The Weinstein Co. board retains attorney John Kiernan of Debevoise & Plimpton LLP to investigate the allegations.
Oct.7, 2017 – Attorney/Legal advisor Lisa Bloom quits
Attorney Lisa Bloom wrote on Twitter. "I have resigned as an advisor to Harvey Weinstein." Bloom added, "My understanding is that Mr. Weinstein and his board are moving toward an agreement."
Oct. 8, 2017 – Weinstein Fired
The Board of Weinstein Co. removes Weinstein from the company he co-founded with his brother, Bob. "In light of new information about misconduct by Harvey Weinstein that has emerged in the past few days, the directors of The Weinstein Company … have determined, and have informed Harvey Weinstein, that his employment with The Weinstein Company is terminated, effective immediately," the company stated in part.
Oct. 10, 2017 – The New Yorker reveals more allegations
An investigation by Ronan Farrow details more alleged incidents of sexual misconduct by Weinstein. Some of the incidents involve actresses such as Rosanna Arquette, Mira Sorvino and Asia Argento. The piece also includes an audio recording of Weinstein verbally pressuring Ambra Battilana Gutierrez to enter his hotel room in 2015.
Gwyneth Paltrow, Angelina Jolie make accusations
In a follow-up piece in The New York Times, actresses Gwyneth Paltrow and Angelina Jolie also accuse Weinstein of sexual misconduct.
Former actress/screenwriter Louisette Geiss makes accusation
With her lawyer Attorney Gloria Allred by her side, former actress and screenwriter Louisette Geiss gives a press conference claiming at the 2008 Sundance Film Festival Weinstein made unwelcome sexual overtures towards her.
Weinstein's wife leaves him
Weinstein's third wife, Georgina Chapman, says, "I have chosen to leave my husband" and calls Weinstein's actions "unforgivable." Weinstein and Chapman have two children together.
Oct. 11, 2017 – BAFTA suspends Weinstein's membership
The British Academy of Film and Television Arts suspends Weinstein saying, "Whilst BAFTA has previously been a beneficiary of Mr. Weinstein's support for its charitable work, it considers the reported alleged behavior completely unacceptable and incompatible with BAFTA's values."
LAPD called to family disturbance involving Weinstein
In response to a 911 call, the LAPD goes to a home around 10:30 a.m., where they speak to Weinstein's daughter; ultimately finding no one was a danger to themselves.
Oct. 12, 2017 – Hatchette ends deal with Weinstein
The Hachette Book Group terminates the Weinstein Books imprint.
The Weinstein Co. crumbling
The Weinstein Co. board is under pressure to liquidate assets. Apple has dropped a planned Weinstein Co. series, while Amazon.com has several Weinstein Co. projects under review.
New York City and London begin investigating
The NYPD is reportedly investigating an alleged 2004 incident in which Weinstein sexually assaulted an actress. And London authorities are reportedly examining a case against Weinstein over an alleged sexual assault from the 1980s.
McGowan calls out 'HW' on Twitter
Bucking the terms of a non-disclosure agreement, McGowan posts "HW raped me."
Oct. 13, 2017 – Amazon Studios ends relationship with the Weinstein Co.
Amazon retracts Weinstein Co. as a producer on its upcoming anthology drama, "The Romanoffs," and disregards production on a series starring Robert De Niro and Julianne Moore.
Oct. 14, 2017 – Bob Weinstein speaks out about allegations against his brother
Bob Weinstein spoke with The Hollywood Reporter, saying he had no knowledge of any nonconsensual sexual activity by his brother; however, he called his brother "a living nightmare" and a "bully."
Academy of Motion Picture Arts and Sciences removes Weinstein
Weinstein won Best Picture for the 1998 film "Shakespeare in Love," and dozens of other Miramax films released under his management have won Oscars. The Academy issued a statement: "We do so not simply to separate ourselves from someone who does not merit the respect of his colleagues but also to send a message that the era of willful ignorance and shameful complicity in sexually predatory behavior and workplace harassment in our industry is over."
Oct. 15, 2017 – The reigniting of the #MeToo movement
Alyssa Milano relaunches the #MeToo movement, which was created in 2006, with a tweet asking for those who have been sexually harassed or assaulted to reply to her with #MeToo.
Oct. 16, 2017 – Producers Guild initiates termination of Weinstein
The Producers Guild of America's board of directors start the process of terminating Weinstein's membership, pending review. The PGA also introduces a new Anti-Sexual Harassment Task Force.
Infusion of cash for the Weinstein Co.
The private equity firm Colony Capital provides a cash infusion. The two companies also begin negotiating for a sale of all or part of the Weinstein Co.'s assets.
Oct. 17, 2017 – Weinstein resigns
Weinstein formally resigns from the board of directors. Five other board members had previously resigned after the scandal broke.
Bob Weinstein accused of sexual harassment
Variety Magazine reports that the Spike network is investigating a sexual harassment claim involving Bob Weinstein. Amanda Segel, a former executive producer for the Weinstein Co., claims Bob Weinstein made numerous advances toward her including invitations to his home and hotel room. Bob Weinstein, through his attorney Bert Fields, denied the allegations.
Oct. 19, 2017 – LAPD investigating Weinstein
Joining investigations in New York City and London, the LAPD is pursuing allegations against Weinstein made by an Italian model-actress who claims Weinstein sexually assaulted her at a hotel in 2013. She is the sixth woman to accuse Weinstein of rape or forcible sex acts.
Weinstein Co. employees issue a statement
Some members of the Weinstein Co. issue a statement asserting they had no knowledge the company's co-founder was a "serial sexual predator." They acknowledged knowing "our boss could be manipulative. We did not know that he used his power to systematically assault and silence women." The statement also includes a demand to be released from the nondisclosure agreements in their contracts, allowing them to "speak openly, and get to the origins of what happened here, and how."
Lupita Nyong'o details allegation in  The New York Times op-ed
Nyong'o describes Weinstein's "sinister behavior" in an op-ed for The New York Times. She describes having to give him a massage in his bedroom during the time she attended the Yale School of Drama. On another occasion, Weinstein tried to get her to come to his hotel room for lunch. "I told him I preferred to eat in the restaurant. He told me not to be so naïve. If I wanted to be an actress, then I had to be willing to do this sort of thing."
October 20, 2017 – Another sexual misconduct allegation
Former actress Heather Kerr, represented by Attorney Gloria Allred, claims that during a 1989 meeting, Weinstein forced her to touch his genitals and told her to make it in Hollywood, she had to sleep with him.
Oct. 21, 2017 – Models accuse Weinstein of sexual misconduct
One former model, Juliana De Paula, alleges a decade prior Weinstein groped her and forced her to kiss other models at his home. When she attempted to escape, DePaula says a naked Weinstein chased her through the loft until she was able to fend him off with broken glass.
Model Samantha Panagrosso claims Weinstein touched her legs in a hotel pool during the 2003 Cannes Film Festival. According to Panagrosso, Weinstein said, "Sam, don't be so naïve…You know Harvey can make you a star."
Oct. 23, 2017 – Civil rights investigation into Weinstein Co. launches
New York Atty. Gen. Eric Schneiderman initiates a civil rights investigation into the Weinstein Co. This focuses on sexual harassment allegations and other types of discrimination to determine whether officials at the company violated state civil rights and New York City human rights laws.
Oct. 24, 2017 – More accusers & Weinstein Co. sued
Two new sexual assault accusers come forward: former production assistant Mimi Haleyi and actress Dominique Huett. In addition, Huett sues the company for negligence saying executives knew about Weinstein's behavior; this is the first civil suit since The New Yorker and The New York Times' initial articles.
October 25, 2017 – Another actress accuses Weinstein
Represented by Attorney Gloria Allred, actress Natassia Malthe claims Weinstein raped her in February 2008, at the Sanderson hotel.
Oct. 26, 2017 – Weinstein vs. Weinstein
Harvey Weinstein sues his company for documents such as e-mails and his personnel file, asserting that such papers can be used in his legal cases to defend himself.
Oct. 27, 2017 – A second New Yorker piece reveals new claims
Ronan Farrow interviews actresses Daryl Hannah and Annabella Sciorra in his latest expose. Hannah claims include two alleged occasions where Weinstein attempted to forcibly enter her hotel room and a third occasion where he asked if he could touch her breast. Hannah asserts the retaliation for her refusal was the loss of future acting roles. Sciorra's allegations stem from a 1993 incident where she claims Weinstein violently rape her.
Oct. 30, 2017 – Producers Guild bans Weinstein for life
The Producers Guild of America board votes unanimously to ban Weinstein for life saying in part, "This unprecedented step is a reflection of the seriousness with which the Guild regards the numerous reports of Mr. Weinstein's decades of reprehensible conduct."
Oct. 31, 2017 – The London investigation against Weinstein expands
Scotland Yard reports 11 allegations of sexual assault across several decades to date.
Nov. 1, 2017 – Disney sues
In a $14 million lawsuit against Weinstein, his former company Miramax and Miramax's former owner Disney are sued by an unnamed Canadian actress alleging Weinstein sexually assaulted her twice in 2000. The actress is also requesting $2 million in damages from Weinstein associate Barbara Schneeweiss, claiming Schneeweiss knew about Weinstein's behavior yet continued to coordinate his business meetings.
Nov. 2, 2017 – Actress Paz de la Huerta says Weinstein raped her twice
Actress Paz de la Huerta reveals to Vanity Fair that Weinstein allegedly raped her in 2010 on two occasions in her apartment. An investigation by the NYPD is opened.
Nov. 15, 2017 – Weinstein Co. sued
Dozens of women form a class-action lawsuit accusing Weinstein of sexual assault, battery and lewd conduct. The complaint includes allegations that a group of people who worked for the former co-chairman facilitated and participated in his wrongful conduct.
Natasha Henstridge details harassment by Weinstein
During an interview on "Megyn Kelly Today" regarding a sexual assault allegation against director Brett Ratner, actress Natasha Henstridge revealed Weinstein allegedly made repeated overtures towards her. She also claims he "pleasured himself in front of me."
Nov. 27, 2017 – Weinstein resigns from the Directors Guild of America
Weeks after the DGA filed disciplinary charges against him based on the numerous women alleging sexual misconduct, Weinstein resigns.
Weinstein is accused of engaging in sex trafficking when he brought an actress to the Cannes Film Festival in 2015 under the guise of business, before allegedly sexually assaulting her in his hotel room.
Dec. 6, 2017 – New allegations by Weinstein's former assistant
Sandeep Rehal, Weinstein's former personal assistant of nearly two years, says she plans to sue Weinstein and his company for sexual harassment.
Louisette Geiss, Katherine Kendall, Zoe Brock, Sarah Ann Masse, Melissa Sagemiller and Nannette Klatt file a federal lawsuit in New York against Weinstein and his former company, the Weinstein Co., that claims an alleged scheme which enabled him to rape and sexually assault hundreds of women.
Dec. 12, 2017 – Salma Hayek writes op-ed in The New York Times: "Harvey Weinstein is my monster too"
Hayek recounts years of saying "no" to Weinstein: "No to opening the door to him at all hours of the night, hotel after hotel, location after location, where he would show up unexpectedly, including one location where I was doing a movie he wasn't even involved with. No to me taking a shower with him. No to letting him watch me take a shower. No to letting him give me a massage. No to letting a naked friend of his give me a massage. No to letting him give me oral sex. No to my getting naked with another woman. No, no, no, no, no …" before he allegedly threatened her with "I will kill you, don't think I can't."
Dec. 16, 2017 – Weinstein blacklisted Ashley Judd and Mira Sorvino
According to New Zealand's Stuff, Director Peter Jackson says Weinstein blacklisted Ashley Judd and Mira Sorvino. Weinstein and Jackson were collaborating on the film adaptation of the "Lord of the Rings" franchise. Jackson said, "I recall Miramax telling us they were a nightmare to work with and we should avoid them at all costs."
Jan. 1, 2018 – Time's Up
In a full-page ad in The New York Times, Shonda Rhimes, Reese Witherspoon and hundreds of Hollywood women launch Time's Up. The initiative includes a legal defense fund to help women protect themselves from sexual misconduct, proposed legislation to penalize negligent companies, an end to nondisclosure agreements, and increased effort for gender equality in Hollywood.
Jan. 25, 2018 – Former assistant files lawsuit
Sandeep Rehal, Weinstein's ex-assistant of two years, files a federal suit, claiming a hostile work environment of catering to Weinstein's sexual proclivities and being sexually violated herself.
Feb. 3, 2018 – Uma Thurman speaks out
Uma Thurman tells The New York Times of two alleged incidents involving Weinstein – one was inappropriate – greeting her in only a bathrobe at a Paris hotel room – and the other was allegedly violent. Thurman says Weinstein physically assaulted her at the Savoy Hotel in London years ago.
Feb. 11, 2018 – New York attorney general sues Weinstein Co.
New York Atty. Gen. Eric Schneiderman sues the Weinstein Co. and its co-founders, Harvey Weinstein and Bob Weinstein, for "egregious violations of New York's civil rights, human rights and business laws."
March 4, 2018 – Weinstein accusers make statement at the Oscars
Three Weinstein accusers, Ashley Judd, Anabella Sciorra and Salma Hayek take stage together and acknowledge the steps made towards progression in the prior year following the Weinstein scandal.
March 19, 2018 – Weinstein Co. files for bankruptcy
The Weinstein Co. files for Chapter 11 bankruptcy following a battle to avoid Bankruptcy Court.
April 12, 2018 – SAG-AFTRA's new meeting guidelines
SAG-AFTRA puts forth new procedures that would end professional meetings from transpiring in hotel rooms, residences and other "high-risk locations."
April 16, 2018 – Weinstein investigations win Pulitzer
The New York Times and The New Yorker share the Pulitzer Prize for public service for breaking the Weinstein scandal and contributing to the progress in how sexual misconduct is being addressed in the nation.
April 30, 2018 – Ashley Judd sues Weinstein
Ashley Judd sues Weinstein for sabotaging her career after she rejected him. Judd's lawsuit, filed in Los Angeles County Superior Court, claims Weinstein made false statements about her, resulting in the loss of career opportunities such as the "Lord of the Rings" trilogy.
May 1, 2018 – Weinstein sued by former employee
Alexandra Canosa, an associate producer on the series "Marco Polo," sues Weinstein for more than $10 million in damages. She claims through her lawsuit: "Harvey Weinstein threatened [Canosa] and made it clear that if she did not succumb to his demands or if she exposed his unwanted conduct there would be retaliation, including humiliation, the loss of her job and any ability to work in the entertainment business."
MAY 8, 2018 – The sale of Weinstein Co. approved
The sale of the Weinstein Co. to Dallas-based private equity firm Lantern Capital Partners is approved in Bankruptcy Court.
May 10, 2018 – Weinstein's wife speaks out
Georgina Chapman gives her first in-depth interview to Vogue, saying, "I have moments of rage. I have moments of confusion. I have moments of disbelief!" Chapman says she knew nothing about any sexual misconduct by her husband until The New York Times and The New Yorker exposes.
A federal investigation into Weinstein
New York Federal prosecutors begin investigation into whether Weinstein's alleged acts of sexual misconduct violated federal laws. The investigation's focus is whether Weinstein persuaded women to travel across state lines for the purpose of committing sexual crimes.
May 25, 2018 – Weinstein turns himself in
Harvey Weinstein surrenders to court in Manhattan to face rape and related charges from incidents involving two women. Through his attorney, Weinstein continues to deny any criminal wrongdoing and that any sexual acts with the accusers were consensual.
May 30, 2018 – Grand jury indicts Weinstein on two counts of rape
A Manhattan grand jury indicts Weinstein on the crimes of rape in the first degree, rape in the third degree and committing a criminal sexual act in the first degree for alleged acts against two women in 2004 and 2013.
June 1, 2018 – Three more women sue Weinstein for sexual assault
Weinstein is sued by three more women: Melissa Thompson accuses Weinstein of sexual assault and rape from 2011; Caitlin Dulany claims Weinstein confined her in a hotel room in 1996 at the Cannes Film Festival and forced oral sex on her; and Larissa Gomes claims that in 2000, Weinstein attacked her in a Toronto hotel room.
June 5, 2018 – Weinstein enters a plea of not guilty
Weinstein pleads not guilty in court to charges involving two victims of alleged sexual assaults in Manhattan.
July 2, 2018 – Weinstein facing life in prison
Weinstein is indicted by a grand jury in New York after he is accused of sexually assaulting a woman and of committing a pattern of sex crimes — charges that could carry a life sentence.
July 9, 2018 – Weinstein enters a plea of not guilty to new charges
In his pending Manhattan case, Weinstein pleads not guilty to new sexual assault charges. He remains released on continued bail.
July 16, 2018 – Weinstein Co. sold for $289 million
Lantern Capital pays $289 million for the assets, including Weinstein Co.'s 277-film library.
Aug. 19, 2018 – Weinstein accuser Asia Argento accused of sexual assault
Actress Asia Argento becomes the subject of a sexual assault claim. The New York Times reports that after her allegations against Weinstein, Argento paid off her accuser, former child actor Jimmy Bennet, who claims that she assaulted him in 2013; he was 17 at the time. The Los Angeles County Sheriff's Department opens an investigation on August 20.
Aug. 22, 2018 – Weinstein accuser sues for trafficking and assault
German actress, Emma Loman (alias), sues Weinstein for allegedly raping her at the 2006 Cannes Film Festival.
September 8, 2018 – Another accuser in London
Scotland Yard reports an allegation received on August 16 regarding a woman claiming Weinstein assaulted her at an "unknown location in the early 1990s".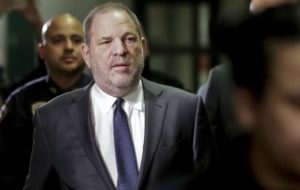 Sept. 16, 2018 – Video shows Weinstein touching woman
Sky News broadcasts a video of Weinstein fondling Melissa Thompson, who has accused him of rape.
Sept. 19, 2018 – Ashley Judd's defamation lawsuit against Weinstein moves forward
A federal judge rules that Judd's defamation lawsuit can continue; it alleges Weinstein disparaged her to "Lord of the Rings" director Peter Jackson as retaliation for denying his sexual overtures.
October 11, 2018 – One count dismissed in Manhattan indictment
Judge James Burke dismissed one of the six sexual assault charges against Weinstein, after prosecutors conceded the victim, Lucia Evans, gave a witness a different account of the incident in question than the one she gave them.
November 1, 2018 – A new accuser added to class action lawsuit
A Polish woman, known in court papers as Jane Doe, accuses Weinstein of sexually assaulting her from the time she was 16 years old working as a model in New York City; exposing her to years of harassment and abuse, beginning in 2002.
January 9, 2019 – One of Ashley Judd's legal claims dismissed
Actress Ashley Judd's sexual harassment claim is dismissed by a Los Angeles federal court, due to the allegations not falling under the statute named. However, her defamation claim would continue.
January 25, 2019 – Brafman out – Baez in
Judge James Burke grants Weinstein attorney Ben Brafman permission to withdraw from the case and a new team takes over – attorneys Jose Baez and Ronald Sullivan.
April 26, 2019 – Closed-door hearing in Manhattan case
A closed-door pre-trial hearing is held to determine which accusers would testify in support of the victims named in the indictment. Also, the previously scheduled June 3 trial date is postponed to September 9, 2019.
May 24, 2019 – $44 Million civil lawsuit settlement
Weinstein has reached a tentative $44 million deal to settle civil lawsuits by alleged victims; $30 million would go to accusers and $14 million would be used to pay legal fees.
July 11, 2019 – Another new legal team
Jose Baez and Ronald Sullivan are out and a third team of defense lawyers step in. Judge James Burke approved Chicago-based attorneys Donna Rotunno and Damon Cheronis to take over. In a letter to the court, Baez said, "Mr. Weinstein has engaged in behavior that makes representation unreasonably difficult to carry out effectively and has insisted upon taking actions with which I have fundamental disagreements."
August 9, 2019 – Annabella Sciorra will not testify
Judge James Burke ruled actress Annabella Sciorra, who accused Weinstein of sexually assaulting her in 1993, will not be allowed to testify as a supporting witness at his upcoming sexual assault trial.
August 15, 2019 – New indictment in the Manhattan case
The Manhattan District Attorney plans to re-present its case against Weinstein to a grand jury so actress Annabella Sciorra can testify, according to The New York Post. The grand jury heard evidence this week and is scheduled to vote on a new indictment by August 26.
August 26, 2019 – Motion for change of venue
Weinstein's legal team files papers, obtained by Deadline, to have the trial moved to Albany or Suffolk County stating Weinstein cannot get a fair trial in Manhattan based in part on his name having been mentioned in New York Post over 11,000 times.
Weinstein goes to court for arraignment on new indictment
Weinstein enters a plea of not guilty to a new indictment. The basis of this new indictment are the accusers from the previous indictment (one from 2006 and one from 2013) plus actress Annabella Sciorra. There is no charge for the underlying rape from 1993 Sciorra accuses Weinstein of, because the crime does not fall within the statute of limitations at that time. The prosecution also filed a motion to consolidate the previous indictment with the new indictment.
October 3, 2019 – Change of Venue Denied
Weinstein defense team loses their longshot bid to move Weinstein's sexual assault trial out of New York City. A five-judge panel of the state Supreme Court's Appellate Division rejected written submissions from Weinstein's lawyers and prosecutors.
December 6, 2019 – Bail Violation
Weinstein hobbles into court with assistance for a bail hearing. Prosecutors argue he violated bail conditions by mishandling his electronic ankle monitor, which left his whereabouts unrecorded for hours at a time. Defense attorney Donna Rotunno blamed "technical glitches" for the malfunction, denying it was a deliberate action. Judge delays ruling until next week.
December 9, 2019 – Weinstein was in a car accident, needs back surgery
Statement released stating Weinstein was in a serious car accident in August resulting in the need for back surgery.
December 11, 2019 –  Bail increase
Weinstein enters the courthouse using a walker.
Judge Burke increased his bail from $1 million to a choice of paying either a $5 million cash bail, or $50 million security bond partially secured at 10%, or $2 million insurance company bond. The judge also set the non-monetary conditions of no passport, no travel outside of the U.S. and other travel stipulations. Weinstein chose to pay the $2 million bond.
December 12, 2019 – Creditors agree to settle
Ninety-eight percent of The Weinstein Co.'s creditors agree to settle. The plaintiff says it includes $25 million for over two dozen actresses and former employees who claim Harvey Weinstein sexually harassed them. The agreement, which would be limited to $500,000 per person, would require court approval.
December 19, 2019- Ex-model sues, renews allegations of abuse at 16
Kaja Sokola rejects settlement. The former model, who accused Weinstein in 2018 of sexually abusing her when she was 16 years old, files a new lawsuit against him.
____
Follow Seema Iyer at https://twitter.com/SeemaCourtTV
Court TV Staff contributed to this report.