By FREIDA FRISARO Associated Press
FORT LAUDERDALE, Fla. (AP) — A foundation dedicated to the 17 people killed in the Parkland school shooting has begun raising money and seeking designs for a public memorial to the victims on a nature preserve near Florida's Everglades.
The Parkland 17 Memorial Foundation said the memorial will offer the public a place to reflect on the victims of the shooting, which occurred just before the school day ended at Marjory Stoneman Douglas High School on Valentine's Day in 2018.
"It is a way to memorialize those that were taken from us that terrible day almost five years ago," said Tony Montalto, whose 14-year-old daughter Gina was killed. Montalto is vice-chairman of the foundation and a liaison to the families of the other victims.
WATCH: 
The preserve is on the border of Parkland and Coral Springs, near the high school in suburban Fort Lauderdale.
"This foundation was established to build the official public memorial to the victims of the Parkland massacre to ensure they are forever remembered as the people they were, as innocent children with vibrant, bright futures ahead of them – educators and coaches who gave so much of themselves to their students," Montalto said.
READ MORE: FL v. CRUZ: Parkland School Shooter Penalty Phase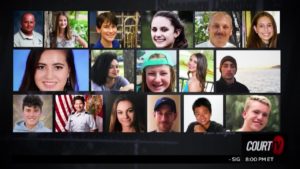 The project is being overseen by the foundation, and proposals for its design will be reviewed by the victims' families.
Montalto said they have put out a national call to artists for ideas for the project.
"We're not putting a budget on it because we want people to dream big," Montalto said.
In November, Nikolas Cruz was sentenced to life in prison without parole following a three-month trial in Fort Lauderdale. The jury voted 9-3 on Oct. 13 to sentence Cruz to death, but Florida law requires unanimity for that sentence to be imposed.
Before the judge formally sentenced Cruz in November, victims' families spent two days berating him as evil, a coward, a monster and a subhuman who deserves a painful death.
Cruz, now 24, had attended Stoneman Douglas. He had been been housed in the Broward County Jail since his arrest hours after the shooting. He is now an inmate in Florida's prison system.