BY COURT TV STAFF
UPDATE 9/13/19: Brooke Skylar Richardson was sentenced to three years of community supervision and 7 days in county jail. She was given time served and allowed to be released after the sentencing. Baby Annabelle's remains were ordered to be released to the Richardson family within 7 days for a proper burial.
<<<WATCH ENTIRE TRIAL OF OH v. RICHARDSON>>>
UPDATE 9/12/19: A jury found Brooke Skylar Richardson not guilty of Aggravated Murder, Involuntary Manslaughter and Endangering a Child on Thursday, Sept. 12, after nearly four and a half hours of deliberating. The jury found her guilty of Abuse of a Corpse. Richardson is scheduled to be sentenced Friday, Sept. 13.
ORIGINAL STORY:
A former high school cheerleader is facing life in prison for allegedly killing and burying her newborn daughter days after her senior prom in May 2017.
Prosecutors say then-18-year-old Brooke Skylar Richardson murdered the newborn, "Annabelle," before burying the remains in her family's backyard in the village of Carlisle.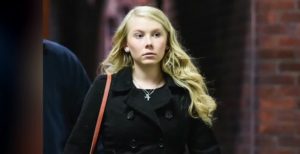 Richardson, who goes by Skylar, reportedly learned she was in the late stages of pregnancy at an April 26, 2017, appointment with Dr. William Andrew at Hilltop Obstetrics and Gynecology. The defendant never told her parents of the pregnancy and never returned for prenatal care. Three months later, she saw Dr. Casey Boyce at the same practice, who she reportedly told there was a stillbirth and admitted to burying the remains in May.
Dr. Andrew and Dr. Boyce contacted local authorities after Richardson's July 12th appointment.
The defendant was arrested and charged with one count of reckless homicide on July 20, just days after Annabelle's remains were found. On August 4, she was indicted on more charges, including an elevated charge of aggravated murder. She has since remained under GPS monitoring and house arrest.
Richardson, now 20, has pleaded not guilty to all charges.
Her defense team claims the child was stillborn and there was no evidence of trauma that caused Annabelle's death. The prosecution claims the child was carried full-term before the alleged crime.
Jury selection will begin Tuesday, Sept. 3.
THE TIMELINE
2017
April 26: Dr. William Andrew informs Richardson she is in the late stages of pregnancy.
May 4*: Richardson attends her high school prom. Friends and family say they had no idea she was pregnant.
May 6*: Richardson's baby, "Annabelle," buried in the backyard. Exact date unknown and listed by the court as sometime in "early May."
July 12: Richardson tells Dr. Casey Boyce she had got into labor, delivered a stillborn baby, and buried the remains in her backyard. Dr. Andrew and Dr. Boyce call the Carlisle Police Department.
July 14: Warren County Sherriff's Office announces skeletal remains were found at the Richardson home.
July 20: Anthropologist Elizabeth Murray examines the remains at the Montgomery County Coroner's Office and determines the bones are "charred." Richardson is arrested and charged with one count of reckless homicide.
August 4: Richardson indicted by a grand jury on charges of aggravated murder, involuntary manslaughter, endangering a child, tampering with evidence and abuse of a corpse.
August 7: Richardson arraigned and posts bond. She is released to house arrested on $50,000 bond. Her mother, Kimberly Richardson, is ordered to surrender her passport.
August 17: Murray examines the remains a second time and recants her original opinion the bones were burned.
2018
March 1: Judge denies defense motion for change of venue.
April 16: Defense makes motion to lift Richardson's house arrest restriction after her 19th birthday.
April 23: Judge agrees to adjust restrictions. Richardson is placed on a curfew from 9 p.m. to 7 a.m. Her GPS monitoring, random drug tests and unannounced home visits will continue.
October 22: Ohio Court of Appeals rules (1) Richardson's physician patient privilege does not apply to communications between Dr. Andrew, his staff and the medical records relating to the April 26, 2017, appointment; (2) privilege does not apply to Richardson's reaction to learning she was pregnant at the April 26, 2017, appointment.
2019
July 3: Defense files motion to have separate trials on the charges against Richardson.
July 12: Judge orders return of Kimberly Richardson's passport after Defense's motion.
July 26: Court denies Defense motion to sever the charges because there is one sequence of events with one victim and one criminal act in a short period of time.
Sept. 3: Jury Selection begins.
Read Juror Questionnaire
Sept. 5: Part 1 and Part 2 of the transcripts and video from first police interview on July 17, 2017 are shown to the jury.
Sept. 9: Transcript and video from second police interview on July 20, 2017 are shown to the jury.
Sept. 9: Prosecution rests.