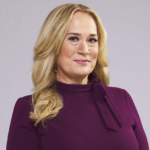 By: Judge Ashley Willcott
ATLANTA, GEORGIA (Court TV) – Recently, my executive producer Kerry O'Connor and I were asked to lead the "If You Give a Child a Book" campaign for Court TV. I am honored to participate, as I have always been an avid reader. As a kid, I felt like I climbed into the book and experienced the story as an active participant. Now, I love reading the law. (And perhaps People magazine as my guilty pleasure). 
"A significant marker for educational success occurs when most children are only 8-9 years old when schools administer third-grade reading proficiency tests. How well a child reads at the end of third grade can affect the rest of her education. Through third grade, students are learning to read. Beginning in fourth grade, students are reading to learn – using their reading skills to gain information, solve problems and think critically. A child who can't read at grade level by third grade is four times less likely to graduate from high school. If this same child lives in poverty, she is 13 times less likely to graduate," The Scripps Howard Fund, "If You Give a Child a Book."
Having practiced child welfare law for most of my career, I have seen firsthand the importance of reading to youth. Their well-being significantly improves with reading. Unfortunately, limited or no access to their own books drastically affects their opportunities in life. This is a chance to contribute and put the book they want literally in their hands. Improve childhood literacy, one child at a time. No amount is too small to make a difference. 
For the past six years, employees of E.W. Scripps (Court TV's parent company) have generously donated to the "If You Give a Child a Book" campaign, giving more than 850,000 books to children in need. With your support, this year's campaign will help us reach an incredible milestone – distributing our one-millionth book!  
What's your favorite book? We want to hear from you.
Let us know on Twitter, Facebook or Instagram using the hashtag #FromtheBench
Watch Judge Ashley Willcott, weekdays from 3 to 5 p.m. ET. on Court TV Live, your front row seat to justice.