Court has recessed for the day to allow one of the attorneys to tend to a medical issue. But before the recess, the judge swore in the panel of about 130 jurors and then dismissed them for the day. The same group will return tomorrow for preliminary questioning.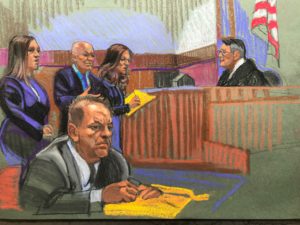 Judge Burke also denied the defense motion to recuse himself from the trial based on bias.
He said he had not made up his mind about the defendant's guilt or consequently ab sentence should he be found guilty and defended his comments by saying he wanted to scare a "recalcitrant" defendant who had repeatedly violated his order.
He heard from prosecutor Joan Illuzzi-Orbon who objected to the defense motion. He did not want to hear from the defense but thanked them for the "illustrated motion."
This after the prosecution filed a letter against the defense's request for Judge James Burke to recuse himself. The prosecution said there was 'no legal basis for disqualification' and called all of the additional arguments from the defense 'frivolous.'
<<<READ PROSECUTION'S RESPONSE TO MOTION TO RECUSE>>>
Defense attorneys filed a letter accusing the judge of bias on Thursday, January 8. Defense Attorney Arthur Aidala pointed specifically to the way the judge berated Weinstein, "Is this really the way you want to end up in jail for the rest of your life, by texting in violation of an order? Is it?"
Aidala suggested the comments were prejudicial and inflammatory and showed enough animus to conclude that the court's "impartiality might reasonably be questioned," in violation of New York State's Rules of Judicial Conduct.
Aidala argued that the judge's comment suggested he had decided his guilt without having herd the evidence. He went on to say that either the judge thought Weinstein deserved to be locked up for the rest of his life for violating his cell phone ban, or he would sentence him to life if he were found guilty.
<<<READ DEFENSE'S MOTION TO RECUSE>>>
The defense also asked for more time to voir dire jurors, which the judge has limited the time to 15 minutes for each juror.