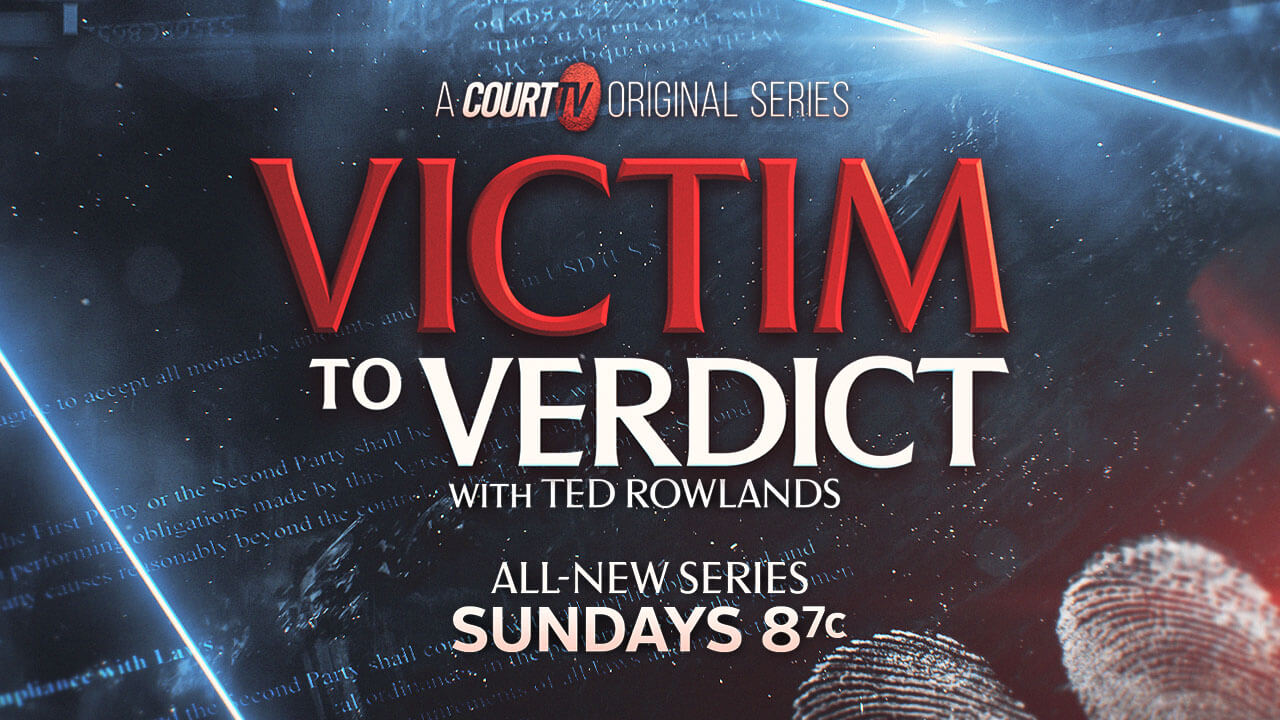 October 12, 2023
ATLANTA – Court TV is launching a new original series that will take viewers inside recent high-stakes trials that have captivated the true-crime world, "Victim to Verdict with Ted Rowlands" premieres Sunday, Oct. 15 at 8 p.m. ET.
Hosted and executive produced by Rowlands, a Court TV anchor and veteran true-crime journalist, "Victim to Verdict with Ted Rowlands" spotlights every moment from the crime scene to the courtroom, tapping into the best of Court TV's real-time coverage of recent high-profile cases. Each episode features the case's critical moments, including must-watch testimony, context from Court TV reporters and exclusive post-trial interviews, to create an hourlong narrative.
"Victim to Verdict" will premiere with four episodes focusing on the following cases:
Murdaugh family murders (Oct. 15): Once prominent South Carolina attorney Alex Murdaugh's life begins to unravel after the murder of his wife Maggie and youngest son Paul. The murders kick off an investigation that uncovered years of drug abuse, theft of millions of dollars and an abuse of power, bringing down a Lowcountry legal dynasty.
· Doomsday cult mom murder (Oct. 22): When Lori Vallow's children go missing, she heads to Hawaii to marry cult leader Chad Daybell, leaving behind a wake of destruction, which includes several dead bodies. As investigators try to solve the case, Chad and Lori prepare for the end of the world.
· Movie popcorn murder (Oct. 29): A Sunday afternoon movie date turns deadly when a confrontation over a cell phone and a bag of popcorn ends with a gunshot Retired police captain Curtis Reeves claims he acted in self-defense, but will a jury in Florida believe that his life was in danger?
· Christmas parade rampage (Nov. 5): Waukesha's annual Christmas parade was struck by tragedy when Darrell Brooks drives his SUV through the parade route. Brooks decides to represent himself at trial, testing the legal system and a Midwestern judge caught in the middle in Wisconsin.
"A trademark of Court TV has always been its extensive archive of the biggest trials spanning three decades. But there are also recent cases that have resonated with our audience. 'Victim to Verdict' will condense these newer, fascinating trials into riveting true-crime hours," said Ethan Nelson, head of Court TV.
"I've had the privilege of covering some of the highest profile trials of our time, including those involving O.J. Simpson, Michael Jackson, Jodi Arias and countless others. It's important to revisit some of the more recent cases that have come to define our criminal justice system over the past few years," said Rowlands. "I believe Court TV viewers will find this hourlong format truly gripping, and at the same time, be as impressed as I am with our talented team of reporters and producers who have entrenched themselves in the proceedings in order to provide their audiences with insights."
In addition to new true-crime original programming, trials Court TV plans to cover in the months ahead include:
· Florida vs. Sarah Boone – Sarah Boone was arrested after her boyfriend was found dead in a zipped-up suitcase. Boone claimed that Jorge Torres Jr's death resulted from a hide-and-seek game gone wrong. But police decided to arrest her after seeing two troubling videos on her phone, showing Boone taunting Torres as he struggled to get out the luggage.
· Arizona vs. Christopher Hoopes – Christopher Hoopes, 36, is charged with second-degree murder in the fatal shooting of his wife, Colleen Hoopes, at the couple's home. Hoopes claimed he accidentally opened fire after she startled him in the middle of the night. According to court documents, the Arizona husband told detectives he pulled the trigger two or three times before realizing he'd shot his spouse.
· Florida vs. Ashley Benefield – Former ballerina Ashley Benefield is charged with second-degree murder in the shooting death of her husband, Doug, 59. Benefield claims she shot her husband in self-defense during a domestic argument, but police allege the evidence doesn't support that theory. The couple was ending their four-year marriage and fighting over custody of their infant daughter.
The debut of "Victim to Verdict" follows other recent programming expansions for the network, including last month's premiere of "Opening Statements with Julie Grant," airing weekdays from 8-9 a.m. ET. Joined by a team of top trial attorneys, investigators and forensic experts, Court TV anchor Julie Grant guides viewers through the high-stakes trials that are on the docket each day, recapping the latest details and spotlighting every twist and turn dominating the headlines across the nation.
Over the summer, the network also launched the free, ad-supported streaming TV (FAST) channel "Court TV: Legendary Trials," which features the nation's most compelling, high-profile cases over the past 30 years, curated from the massive Court TV archives.