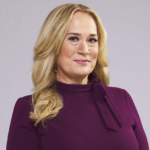 By: Judge Ashley Willcott
11-year-old Gannon Stauch died a brutal death at the hands of his stepmother, Letecia Stauch.
On the night Gannon died — January 27, 2020 — Letecia called police at 6:45pm to report that Gannon did not come home after leaving the house to play with friends. Later, the defendant told her husband no less than four different stories about what happened to the boy, including that Gannon fell off his bike and hit his head when she was outside with him. In addition, she weaved a tale about how the two were abducted by a man named Quincy Brown.
Gannon's remains were discovered on March 18, 2020 in a suitcase underneath a bridge in Pensacola, Florida. The medical examiner who performed the autopsy found a gunshot wound to Gannon's head, a blunt force injury to his skull, and 18 defensive stab wounds to his hands and arms.
Letecia does not deny that she killed Gannon. However, she maintains she is not guilty by reason of insanity.
In his opening statements, Letecia's defense attorney argued that his client suffered abuse during her own childhood which resulted in what's known as fragmentation of her personality. Counsel further stated that experts would be brought in to testify about associative identity disorder, which was formerly known as multiple personality disorder.
Generally, the insanity defense is an allegation of a mental health condition, resulting in the inability of the defendant to know right from wrong at the time the crime is committed. In Colorado, the defense must prove that the mental impairment led to the crime.
Here are 3 things you should know about the insanity defense:
The defendant admits they committed the crime. Even if it is a silent admission, the parties agree that the person killed the victim.
An expert must testify for the defense as to the mental impairment of the defendant. And that as a result of the mental impairment, the defendant did not know right from wrong at the time the crime was committed. Often the prosecution will present testimony from their own experts, resulting in a battle of the experts.
When an insanity defense is being presented, juries generally want to hear from the defendants themselves. That way, jurors can make their own assessments as to whether defendants were insane when their alleged crimes were committed.
What do you think? Was Letecia Stauch insane at the time she murdered her 11-year-old stepson?
Let us know on social media @courttv #fromthebench
Watch Judge Ashley Willcott, weekdays from 3 to 5 p.m. ET. on Court TV Live, your front row seat to justice.