Beth Hemphill
LAS VEGAS (Court TV) — Fans from across the world are heading to Las Vegas this weekend, but not just for the 87th annual NFL draft. There's also a unique blend of darker, more twisted fans dedicated to all things true-crime, and they're attending CrimeCon 2022.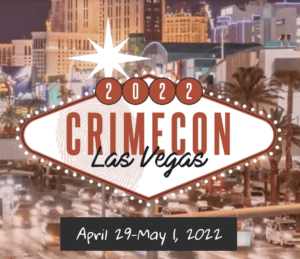 CrimeCon is a weekend-long immersive experience packed with expert panels from binge-worthy TV shows and documentaries to the leading podcasts and creators in the world. These panels will feature deep dives into niche topics, from the latest cases to scientific techniques used by law enforcement and lawyers.
Among the many anticipated panels this year is the "Up and Vanished" podcast panel, hosted by Tenderfoot TV. The founder, Payne Lindsey, is a director and documentary filmmaker from Atlanta. He created "Up and Vanished," Tenderfoot's flagship podcast, which covered the 2005 disappearance of former beauty queen Tara Grinstead, whose case went unsolved for more than a decade. Unsolved until the "Up and Vanished" podcast breathed new life into a case that had turned cold.
When Lindsey started this journey, he had no idea what he might uncover. He had no idea he would become what many consider a catalyst in Grinstead's case, igniting a chain reaction of secrets and confessions — ultimately leading to the 2017 arrest of two of Grinstead's former students implicated in her murder.
Jury selection begins Monday, May 2, for Ryan Alexander Duke, the man prosecutors believe murdered Grinstead and burned her body in a pecan orchard.
Days before Duke's trial begins, Court TV anchor and former prosecutor Julie Grant will moderate an "Up and Vanished" panel with Dr. Maurice Godwin and Phillip Holloway.
Court TV has negotiated a special partnership for the trial, as the network's cameras will be inside the courtroom for The Beauty Queen Murder Trial for gavel-to-gavel coverage.
Another highly anticipated panel is on the Delphi Murders. Liberty "Libby" German and Abigail "Abby" Williams were dropped off near the Old Monon High Bridge in Delphie, Indiana on the afternoon of February 13, 2017. Their bodies were discovered the next day on a private piece of property, less than a mile from that location. Their killer has never been found, despite having video found on Libby's cell phone and two sketches from potential witnesses in the area.
Family of Libby and Abby will host a panel at CrimeCon 2022. Sarah Turney, sister of Alissa, Kelsi German, sister of Libby, and Julie Murray, sister of Maura, will take the stage to discuss their years of struggling with the balance of grieving unimaginable losses and also being on the receiving end of vile messages and unfounded accusations from hateful people hiding behind keyboards.
With Renee Williams, Executive Director of the National Center for Victims of Crime, moderating, Sarah, Kelsi and Julie will share their journeys while exposing what so many victims and their families have unfortunately had to endure.
Other big names at CrimeCon2022 include: Interrogation expert Fil Waters, forensic scientist Dr. Henry Lee, renowned forensic pathologist Dr. Cyril Wecht, criminal defense attorney David Rudolph and Sonya Pfeiffer, body language experience Susan Constantine, as well as some big names in True-Crime TV, such as Nancy Grace, Joey Jackson and Chris Hansen.
CrimeCon 2022 begins April 29, 2022 through May 1.