By Beth Hemphill
CONCORD, N.H. (Court TV) — The search for five-year-old Harmony Montgomery, who's been missing since 2019, led to a frenzy of FBI and local law enforcement back to the New Hampshire home of the child's father and stepmother, Adam and Kayla Montgomery Tuesday.
The couple has been jailed since January, after being formally indicted on misdemeanor charges of interference with custody and endangering the welfare of a child.
Adam Montgomery had custody of his daughter, who vanished sometime in late November or early December of 2019, but did not report her disappearance until fall of 2021.
Local residents have reported on the swarm of activity surrounding the home.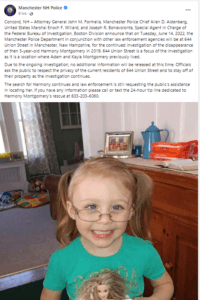 Investigators are expected to remain on the scene through the evening, according to Manchester Police.
In a news release, New Hampshire Attorney General John Formella thanked residents in the area for their patience as the investigative work continues.  "In order to protect the integrity of the ongoing investigation, officials will not be disclosing what items are being sought and what, if any, evidence is located.  Officials also caution against any speculation related to items being removed."
The search for Harmony continues, and law enforcement still requests the public's assistance in locating her.  If you have any information, please call or text the 24-hour tip line dedicated to Harmony Montgomery's rescue at 603-203-6060.