ORLANDO, Fla. (Court TV) – Court TV headed to CrimeCon 2023 for an unforgettable gathering of true crime enthusiasts and aficionados. CrimeCon brings together thousands of fans, legal experts, investigators, authors, podcasters and even a K-9 unit this year to delve into the thrilling world of criminal justice and unsolved mysteries. 
Here's what you missed from Court TV at this year's event:
LIVE from CrimeCon: Closing Arguments with Vinnie Politan broadcast LIVE from the CrimeCon convention center on Friday, Sept. 22 at 8/7c. Vinnie was joined by a panel of experts to analyze the latest trials captivating the nation, including some special guests at CrimeCon. Live guests included Mike King, Joseph Scott Morgan, Dr. Gary Brucato, Katherine Ramsland, Anne Bremner, Ann Burgess, Susan Hendricks, and more!
Meet the Court TV Team: Fans had the opportunity to meet and interact with their favorite Court TV anchors, investigative journalists, and reporters in person. Among those attending were Court TV anchors Vinnie Politan and Julie Grant, the hosts of Opening Statements with Julie Grant and Closing Arguments with Vinnie Politan, as well as Crime & Justice Correspondent Matt Johnson, and Court TV's Senior Director of Courtroom Coverage, Grace Wong.
Watch: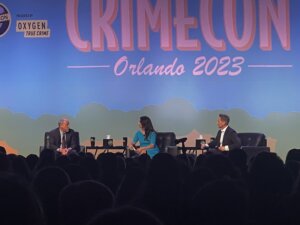 Must-See Events: Court TV's Julie Grant and Matt Johnson joined prosecutor Creighton Waters in an unforgettable discussion, pulling back the curtain inside the prosecution of Alex Murdaugh. Attendees heard behind-the-scenes stories that happened as Court TV cameras filmed the six-week trial.
Also on the big stage, Matt Johnson led a discussion with Payne Lindsey, a friend of Court TV. Lindsey starred in the Up and Vanished podcast, investigating the disappearance of Tara Grinstead, which many believe helped crack the 10-year-old-cold case. At CrimeCon, Matt sat down with Lindsey to discuss his tactics, from crawling under houses and confronting suspects, to navigating an investigative podcast.
Read More: Up and Vanished Host Payne Lindsey Reflects on Tara Grinstead Case
Interactive Exhibits, Prizes and Giveaways: Court TV feature an interactive exhibit where fans had the opportunity to share their true crime obsessions, leaving their own thumbprint on each obsession. In addition to tons of Court TV swag, three special winners, who subscribed to the Court TV newsletter, won a true crime binging package, which included a Tablo device, Roku, digital antennae, Court TV blanket and gourmet popcorn – everything you need to curl up and stream Court TV.
If you couldn't make it this year, visit CrimeCon's website to get tickets for next year's event in Nashville. To see more highlights from CrimeCon 2023 in Orlando, follow us on social media.